Tributes
Tribute to Teddy O Dowd
May 2nd, 2011
by Weeshie Fogarty


The John Mitchels club were shocked and saddened to hear of the sudden and untimely death of former Mitchels footballer and Friend Teddy O'Dowd. Teddy had a distinguished football career winning many titles on the field of play. He began his Medal haul in 1954 winning a County Championship medal with John Mitchels and a Munster Minor Championship with Kerry. In 1958 he added another Munster Championship this time with the Kerry Junior team.
Next came the golden period of football for John Mitchels, Teddy was an integral part of this, winning 5 County Championship medals in a row from 1959 to 1963 (being team captain in 1962). During this period for Kerry he also added two more Munster Junior medals in 1961 and 1963, a Munster senior medal in 1961 (being beaten by Down in the All Ireland Final) and in 1963 he won an All Ireland medal playing with the Kerry Junior team. His last medal was as part of the John Mitchels team that won the County Championship in 1966. Teddy continued to play a part in John Mitchels after his playing career ended and was a senior selector in 1989 and as recent as Friday 22nd April he took great joy in the present Minor team exploits, Rest in Peace Teddy, may the sod rest gently on your soul.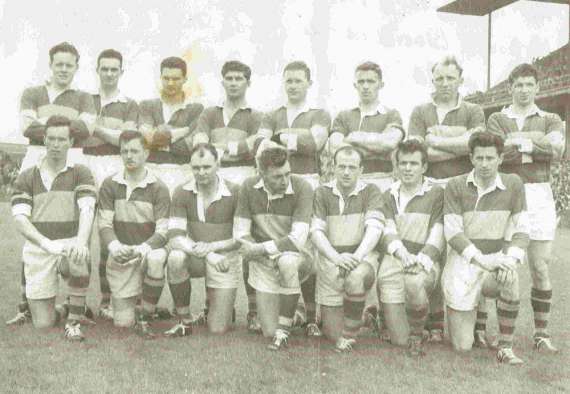 1961 National League Champions
Front Row L-R
: Paddy Hussey, Johnny Culloty, Niall Sheehy, John Dowling (RIP), Teddy O Dowd (RIP), Dave Geaney, Tom Long
Back Row L-R
: Kevin Coffey (RIP), Brian Sheehy, Mick O Connell, Mick O Dwyer, Jack Dowling, Dan McAuliffe (RIP), Tim Lyons (RIP), Seamus Murphy (RIP)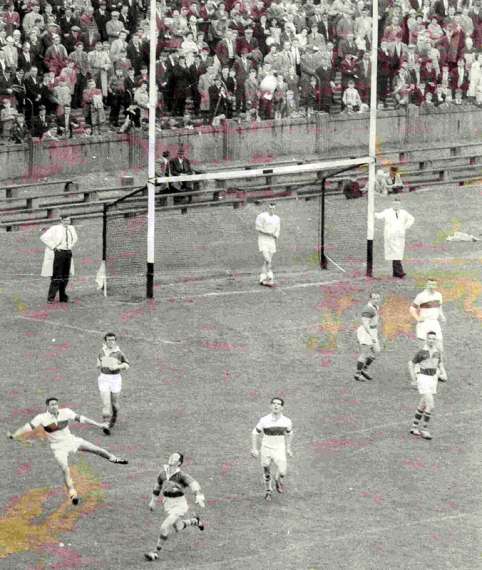 Action from the 1961 National League Final - Kerry Vs Derry

The late Teddy O Dowd is on the right in front of the Derry goalkeeper with fellow John Mitchels man Brian Sheehy on extreme right. Dave Geaney is on the right.
Photo courtesy of Tommy Conroy.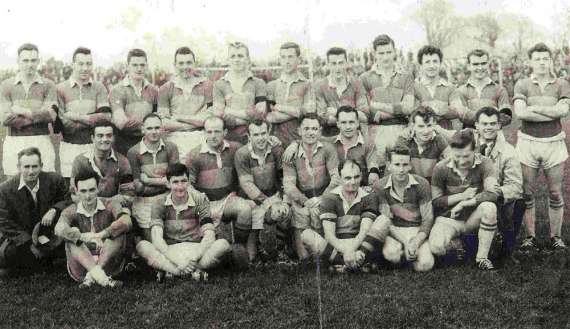 John Mitchels - 1962 Kerry County Champions
Sitting L-R
: Sean Og Sheehy, Dom O'Donnell, Niall Sheehy, Brendan Galvin, Jimmy O'Mahoney (RIP)
Kneeling L-R
: Jacques McDonnell (Trainer), Paddy Sayers, Paudie Sheehy (RIP), Teddy O Dowd (RIP), John 'Thorny' O Shea (RIP), Billy Kerins, Fred Lynch, Bruddy Burrows, Alan Conway (RIP)
Back Row L-R
: Brian Sheehy, John Dalton, Johnny Kelliher, Seamus Roche, Mick Morris, Eddie Stack, Ted Fitzgerald, George Collins, Redmond Powell (RIP), Derry O Shea, Harry Burke
Photo courtesy of Tommy Conroy.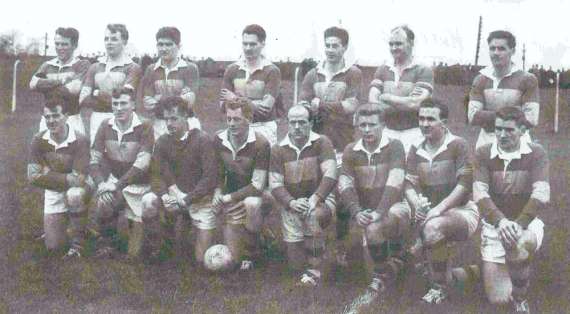 1964 National League Kerry Team
Front Row L-R
: Denis O'Sullivan, Johnny Culloty, Paud O Donoghue (Capt), Teddy O Dowd (RIP), Bernie O Callaghan (RIP), Joe Joe Barrett, Sean Burrowes.
Back Row L-R
: Declan Lovett, Mick Morris, Mick O Dwyer, Mick O Connell, Pat Griffin, Niall Sheehy, Gerry O Riordan
Photo courtesy of Tommy Conroy.
Tralee Shamrocks Senior Basketball team in Tralee CYMS in 1956
Front Row
: Jackie Collins, Pa Fitzgerald (Capt), Teddy O Dowd (RIP)
Back Row
: Anselm Boyle (Coach), Jackie Merc Foley, Gerald Pierse (RIP), Vincent Mullins, Michael O Donovan (RIP)
Photo courtesy of Tommy Conroy.
Teddy Dowd or to me Dowdy, was a great friend. a great footballer and a great human being. I loved meeting him and chatting about the old times and more importantly the present times. A truly great forward, I played in a County Final against him in 1966 and Mitchels won. One of those people you always felt better after meeting him. There was only one "Dowdy". Sympathies to his wife family and old Mitchels team mates.


-- Weeshie Fogarty - a great admirer